Our Chapter's Founding

In response to an invitation from Mrs. William Clement in the Rutland Daily Herald of May 10, 1893, 16 women met at her home for the purpose of organizing a Rutland Chapter of the Daughters of the American Revolution. The Ann Story Chapter was organized May 20, 1893 and received its charter on January 9, 1894. The charter daughters and real daughters are listed below. The chapter has been serving the Rutland community ever since, promoting historic preservation, education and patriotism.
The charter daughters and real daughters (distinction of honor given to DAR members whose fathers were patriots in the Revolutionary War) are listed below:



Charter Members


Sarah Fish Clement
Nancy Hyde Bottum
Adelaide Keeler Kingsley
Cornelia Roberts Kingsley
Elizabeth Wood Clement
Charlotte Sessions Harris
Abigail Hitchcock Dyer
Margaret Holmes Francisco
Clara Hatch Senton Bardy
Mabel Tuttle Caverly
Harriet Redington Sheldon
Miriam Barrett Dunton
Emily Seaver
Etta Spaulding Bates
Ava Spaulding Wooster
Frances Porter Everts



Real Daughters


Elmira Hitchcock Hall
Charlotte Amsden Hawkins
Susan Earl Heald
Susan Lyford Senter


Our Name

The name of the Ann Story Chapter, Rutland, Vermont, honors a Revolutionary War patriot named Ann Story, who aided the Green Mountain Boys in their fight for freedom. Born in Connecticut, Ann and her family moved to the central Vermont area in search of a better life. After being widowed, she chose to remain in the wilderness with her five young children to homestead her land. At the start of the Revolutionary War in 1775, many other settlers left Vermont, but Ann Story stayed. She was eager to help the Green Mountain Boys, so she volunteered her services as a spy. "Give me a place among you, and see if I am the first to desert my post," she is said to have told them. When threatened by Indian attacks and Revolutionary War hostilities, she dug a cave into the side of Otter Creek where she could hide her family and remain safe. As most of the settlers nearby had fled, her cabin became an outpost for the Green Mountain Boys, where the patriots could find rest, shelter and storage for their supplies and gunpowder in her secret cavern. She rebuilt her cabin after Indians burned it, this time over a crevice in the rock, to provide an escape route. A tunnel was dug to the Otter Creek, through which a canoe could pass. The family slept in an underground room. The patriots used her cabin for rest and shelter and as a message drop, and she became known as "The Mother of The Green Mountain Boys." Ann died in Middlebury, Vermont on April 5, 1817 and she is buried in the Old Farmingdale Cemetery. In Salisbury, a monument stands in Ann's memory, on the site of the original cabin.
Her strength, courage and commitment to her ideals remain inspirational, as these are attributes still greatly treasured by today's Vermonters.


The Story Cabin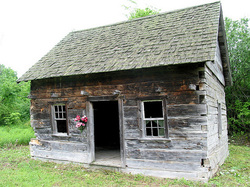 The original Story cabin disappeared from the banks of the Otter Creek long ago, but a marker was placed on the site in 1905. During the bicentennial, the Salisbury Historical Society constructed a replica using materials from a garrison-type cabin built in Addison during the 1700s. Unfortunately, it fell into disrepair after the celebration and was destroyed by arson in August 2004.
---